Racquet Club Garden Villas
Palm Springs, CA
Originally part of the famous Racquet Club, the Racquet Club Garden Villas or originally the Racquet Club Cottages West, were designed by the famed mid-century architect William F. Cody, were ingeniously-designed condos intended to give guests privacy but easy access to resort activities. The grounds are gated and the complex is just minutes from downtown Palm Springs and its excellent restaurants and trendy shops.
The post and beam architecture with floor to ceiling glass walls, Cody's signature look and design, help break the distinction between indoors and outdoors. Additional Cody trademark design elements are the concrete block walls and large cantilevered roof overhangs. The patterned concrete block used is exclusive to Racquet Club Garden Villas. Construction began in 1959 led by builder Paul Trousdale, who also developed the famous Trousdale Estates in Beverly Hills. The landscaped design is by Philip A. Shipley, a landscape architect to celebrities such as Walt Disney, Frank Sinatra and Steven Spielberg. The complex boasts amazing views, one of the most beautiful resort-style pools in the entire Palm Springs area, and mature plantings, including a babbling brook, that have created an oasis in the desert at the Mid-Century Modern Racquet Club Garden Villas. The community is managed by Gaffney Group – 760-327-0301. Monthly HOA dues are $600+ a month and cover water, trash, roofs, exterior paint, landscape, and pool/spa maintenance.
On November 20, 2013, the Racquet Club Garden Villas received the prestigious Palm Springs Historic District Designation, giving it the benefits and privileges of the Mills Act. Rentals are limited to 14 days minimum at the Racquet Club Garden Villas.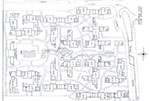 < Click to pop up a map of the complex.
Discover the grounds of the Garden Villas:
There are currently no available homes for sale. Please click here if you would like to be notified of new listings for this community.
There are currently no available homes for rent.
* Click on a grid header to sort by that column.
Address
List Date
List Price
List $ / Sq Ft
Beds / Baths
Sold Date
Days on Market
Sold Price
Sold $ / Sq Ft
360 Cabrillo RD #118
2022-02-16
$598,000
$558
1 / 2.00
2022-03-15
5
$700,000
$653
360 CABRILLO RD #123
2022-02-14
$595,000
$555
1 / 2.00
2022-03-11
5
$645,000
$602
360 CABRILLO RD #109
2022-02-05
$600,000
$551
1 / 2.00
2022-02-25
2
$600,000
$551
360 CABRILLO RD #107
2021-12-17
$530,000
$494
1 / 2.00
2022-01-12
4
$620,000
$578
360 Cabrillo RD #214
2021-10-06
$400,000
$694
1 / 1.00
2021-11-10
3
$400,000
$694
360 Cabrillo RD #222
2021-07-28
$575,000
$408
2 / 2.00
2021-09-16
43
$530,000
$376
360 Cabrillo Rd #212
2021-03-29
$524,000
$489
2 / 2.00
2021-04-29
2
$524,000
$489
360 Cabrillo RD #116
2020-10-13
$299,000
$517
1 / 1.00
2021-02-03
106
$295,000
$510
360 Cabrillo Rd #214
2020-08-15
$300,000
$521
1 / 1.00
2020-10-12
58
$300,000
$521
360 Cabrillo RD #209
2020-08-10
$395,000
$338
1 / 1.00
2020-11-24
67
$380,000
$325
360 Cabrillo RD #103
2020-08-10
$269,000
$525
1 / 1.00
2020-10-07
56
$260,000
$508
360 Cabrillo RD #207
2020-07-31
$545,000
$508
2 / 2.00
2020-08-24
23
$545,000
$508
360 Cabrillo RD #114
2020-07-27
$525,000
$490
2 / 2.00
2020-09-02
35
$515,000
$480
360 Cabrillo RD #201
2020-06-24
$524,900
$490
2 / 2.00
2020-08-10
47
$513,000
$479
360 Cabrillo RD #127
2020-06-17
$350,000
$565
1 / 1.00
2020-09-01
67
$350,000
$565
360 Cabrillo RD #128
2020-02-01
$365,000
$340
1 / 2.00
2020-04-01
51
$342,500
$319
Averages:
$462,181
$502
36
$469,969
$509